Are Motorcycle Helmets Required in Louisiana?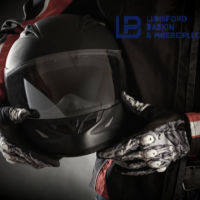 Motorcyclists are not required to abide by many of the rules that govern other passenger vehicles. They don't wear seat belts, their vehicles don't come with airbags, and they're far more exposed than a person driving an automobile.
Because motorcyclists have less protection than other drivers, it's critical that they wear protective motorcycle helmets. The National Highway Traffic Safety Administration found that helmets reduce the risk of serious injury and death by 33%. Additionally, the Insurance Institute for Highway Safety found that helmets reduce the risk of brain damage by 67% percent.
Many risks pose a threat to the safety of motorcyclists and can cause motorcycle accidents, including hazardous road conditions, dangerous weather, and unsafe drivers. To protect yourself in Louisiana, you need a protective helmet, and you also need to abide by our state's helmet requirements.
Laws Governing Helmets in Louisiana
Requirements for wearing a helmet differ from state to state, and in Louisiana, motorcyclists and passengers must equip themselves with protective headgear, regardless of the type of roadway they're traveling on. Both passengers riding behind the driver of the motorcycle as well as a sidecar attached to the vehicle are required to wear a helmet at all times.
Additionally, drivers and passengers need more than generic headgear—they need helmets that are specifically designed for motorcyclists. Motorcycle-specific helmets are required to have padding, lining, and a visor, and they also require an adjustable chin strap so that drivers and passengers can secure the helmet for maximum protection. Helmet manufacturers are required to provide the necessary specifications that meet the standards of the Department of Public Safety and Corrections' Deputy Secretary, also known as the Commissioner.
Louisiana's Revised Statutes 32:190 also require motorcyclists and their passengers to have their helmets securely fastened with their chin strap when in motion at all times. Riders who fail to abide by the state's helmet requirements can face a $50 fine.
Louisiana Laws for Protective Eyewear
In addition to state requirements that govern your need for a helmet, motorcyclists and passengers are also required to wear protective eyewear to be in accordance with Louisiana's Revised Statute 32:190.1. Suitable protective eyewear includes goggles, a face shield, or safety glasses. Like with helmets, motorcycle protective eyewear manufacturers are required to abide by specifications established by the Commissioner.
Other important safety rules governing eyewear include the fact that if you choose to wear goggles or safety glasses, you need to pair them with an open-faced helmet. Finally, you should also note that motorcyclists are not allowed to wear tinted eye protection while driving at night. Tinted eye protection can limit motorcyclists' ability to see the road while driving after dark.
Louisiana Exceptions to Helmet and Eyewear Requirements
There are some circumstances in which Louisiana motorcyclists and passengers are not required to wear helmets or protective eyewear. For helmets, motorcyclists can apply for an exemption if they're participating in a public event, such as a parade. Additionally, if their motorcycle offers greater protection for their head than a helmet, they may also be able to earn an exemption.
Motorcyclists can avoid the need to wear protective eyewear by driving a motorcycle with a high enough windshield.
Contact a Louisiana Motorcycle Accident Lawyer
If you're a motorcyclist or passenger riding in Louisiana, you need to wear the necessary protection to keep yourself safe. Not only is it required by law—but it can also protect you from serious harm or even death in the event of a vehicular accident.
If you or a loved one were hurt in a car accident involving a motorcycle, contact Lunsford, Baskin, & Priebe, PLLC for support. We offer expert legal assistance for personal injury cases in both Louisiana and Mississippi. We can get you the compensation you deserve to cover medical bills, vehicle damages, and lost income. For our New Orleans office, call 504-788-2994, and for our Jackson office, call 601-488-3975. We offer free, no-risk consultations to evaluate your case. Contact us today, and get the money you deserve for your personal injury!