5 Things You Must Do After a Motorcycle Crash in Mississippi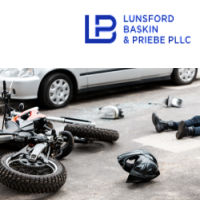 Though motorcycle riding is a gratifying experience for many, it also comes with an increased risk of experiencing an accident and injuries. Motorcyclists are more susceptible to fatal injuries in particular because they have less protection around their bodies than passenger vehicle occupants. Motorcycles also do not have the visibility that other vehicles do, and they tend to move around much quicker, making them more prone to collisions.
Data reported by the National Highway Traffic Safety Administration shows that 84,000 motorcyclists were injured in 2019, with 5,014 of those injuries resulting in fatalities. Of the accidents reported for each state, Mississippi only experienced 37 motorcyclist fatalities—likely due to the state's helmet law—but riders can still suffer severe and fatal injuries even while wearing a helmet.
If you are involved in a motorcycle accident, it can be beneficial for you to work with an experienced personal injury attorney. Motorcycle accidents can be traumatizing and result in severe injuries that can lead to permanent disability, disfigurement, or even death. You and your loved ones deserve to receive needed compensation to help cover your losses and financial burdens such as medical expenses, loss of wages, emotional anguish, and loss of enjoyment of life. A motorcycle accident lawyer can help guide you through the legal process of filing a claim or a lawsuit to ensure you are adequately compensated.
1. Get Yourself to Safety
Your safety and wellbeing should be your number one priority following an accident. If possible, move yourself from the path of oncoming traffic to keep from sustaining further injuries and damages. If you are on the highway, you can try to get yourself over to the shoulder if your injuries allow; just be careful not to hurt yourself more in your attempt to move out of the way. If you are in a residential or commercial area, you can try to move onto a sidewalk or seek shelter inside of a place of business. Do not leave sight of the scene of the accident entirely, however. You will need to be present when the police and medical responders arrive.
2. Call 911
Once you are out of harm's way, call 911 to report the incident. Make sure they send emergency medical responders in addition to the police so that you and any other injured victims may receive proper medical attention. Once the police arrive, make sure to give them as much detail as possible, but avoid saying anything that resembles admitting fault as it could harm your personal injury case.
3. Seek Emergency Medical Attention
Either before or after speaking with the police, make sure you get checked out by EMS. If your injuries are severe, you may be immediately rushed to the hospital, and the police will follow to speak with you about the incident when possible. Even if you feel fine initially, you should always get checked out just to be sure. Symptoms may not always appear right away, especially with internal injuries, and leaving them untreated can be fatal.
4. Gather Evidence
The evidence you and the police collect is crucial to personal injury cases. The court and insurance companies will use this to determine how much money you are to be awarded for damages. If possible, take pictures of the accident scene, including close-up shots of property and vehicle damage, pictures of the scene as a whole, and pictures of your injuries.
You should also talk to witnesses yourself and write down their contact information. Witness testimonies can also help prove fault in personal injury cases. You will also need to exchange information with the other parties involved in the accident. Make sure to get their:
Full name
Contact information
Driver's license number
License plate number
Insurance information
5. Contact Your Insurance Provider and an Attorney
Immediately following the accident, you should contact your insurance provider to inform them of the incident and get a claim started. Do not, however, speak with the guilty party's insurance company until you have hired a lawyer. They may trick you into giving them information that can be used against you so they can deny your claim. An attorney can guide you through the legal process and prep you on how to speak with the authorities and insurance companies going forward to avoid any missteps.
Connect with an Experienced Mississippi Personal Injury Attorney
If you or a loved one are injured in a motorcycle accident, our team of experienced attorneys can help. We believe in providing compassionate legal services to those in need, especially for traumatic incidents such as motorcycle accidents. Our goal is to help you get the compensation you need to cover damages and injuries related to the accident so you can focus on your health and recovery.
For a free consultation with an experienced personal injury lawyer in Mississippi, contact Lunsford, Baskin, and Priebe, PLLC. After-hours visits are available.