What Are the Reasons Someone Gets Denied Workers' Comp, and What Do I Do If That Happens to Me?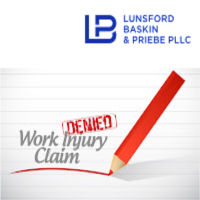 Workers' compensation plays a vital role in recovering from a workplace injury. Workers' compensation covers a wide range of medical expenses, including diagnostic tests, prescription drugs, surgeries, lab tests, physical therapies, prosthetic devices, and other medical treatments. It also covers expenses related to lost wages if the victim is unable to work because of their injuries.
If you experienced a medical injury or illness at work but your workers' compensation was denied, you'll have to pay for medical expenses and recovery out of pocket or through your own insurance. There are many different reasons why one's workers' compensation may be denied, and many of them result from unscrupulous employers or insurance companies rather than the victims.
If you were injured in a workplace accident and were then denied workers' compensation, you need to understand the different reasons why your claim may have been denied. Additionally, you should contact a workers' compensation attorney immediately.
Why Was My Workers' Compensation Denied in Louisiana?
Insurance companies frequently deny the proper amount for workers' compensation or deny workers' comp entirely. Some of the reasons why your workers' compensation claim could be denied include:
Your employer failed to report it fast enough: Employers have ten days to report a work injury to the workers' compensation insurance company. If they fail to report it in a timely manner or don't report it at all, you'll be denied the benefits owed to you.
Medical records show evidence of illicit drug use: If an illegal drug is found in your system around the time your work injury occurred, you could be denied workers' compensation. Additionally, if you were found to have been intoxicated during the time of the injury, your benefits could be denied.
Insufficient medical documentation: If there's insufficient evidence of a medical injury to justify treatment, your claim could be denied. A situation involving insufficient evidence can be fixed by obtaining full medical records.
Technical issues: Insurance companies designed compensation claims to be complex so that they can find loopholes to deny you coverage. Workers' compensation attorneys can assist you through the claims process so that a technicality doesn't stop you from receiving the benefits you deserve.
Failed to sign a medical authorization: Workers' compensation insurance requires your medical records after an injury. You need to sign a waiver permitting them to access your medical records or else your coverage will be denied.
Insurance company deems treatment unnecessary: Insurance companies are looking for ways to deny you coverage, and one way they may attempt to do that is by claiming that your injuries are not serious enough for medical treatment or recovery time.
Injury or illness fails to be within Medical Treatment Guidelines: Not all treatments are covered under Louisiana's Medical Treatment Guidelines. Even if an insurance company claims your treatment doesn't fall under the guidelines, you should still investigate with a workers' compensation attorney in case the insurance company is being untruthful.
Pre-existing condition: The insurance company may claim that your injury is not eligible for coverage because of a condition that existed before the workplace injury. If a pre-existing condition is made worse by a workplace injury, you still qualify for workers' compensation, so don't let an insurance company deny you coverage just because of a pre-existing condition.
Insurance company claims you can return to work: The workers' compensation insurance company may try to underestimate the severity of your injuries to avoid paying your full claim. They may prematurely claim that you're recovered so that they don't have to continue paying benefits.
Mistakes from employer or insurance company: If you're denied proper coverage because of a clerical error from your employer or insurance company, you need to remedy the situation with a workers' compensation attorney to get the benefits you're entitled to.
Insurance claims it wasn't work-related: If an insurance company claims your injury or illness was not work-related, you need to gather sufficient evidence to fight against their assertion. Evidence can include eyewitness testimony, doctor's testimony, and medical records.
Your employer doesn't have proper insurance: Employers are required to have workers' compensation insurance or be self-insured, so if you're denied compensation for medical treatment and recovery, you need a workers' compensation attorney to hold your employer accountable to pay your claim.
The claim file was lost: Workers' compensation insurance companies or unscrupulous employers may say that your claim file was lost to avoid paying benefits.
Insurance company investigating the claim: You may be denied immediate compensation for your injuries because the workers' compensation insurance company claims it's investigating your workplace injury or illness. Even if the insurance company is investigating the claim, they're still required to pay benefits within 14 days of being notified of your injuries.
You didn't file a Monthly Report of Earnings: In Louisiana, injured employees are required to fill out Form 1020, which is the Employee's Monthly Report of Earnings. The form is for reporting whether you were able to receive an income or not due to your injuries.
What Should I Do If My Workers' Compensation is Denied in Louisiana?
Regardless of the reason why your claim was denied or undervalued, you need to seek expert workers' compensation attorneys to help you get the money you deserve. Employers and insurance companies are looking for ways to avoid paying you for your work injury, and the best thing you can do to receive the money they owe you is to hire workers' compensation attorneys.
If you or a loved one experienced a workplace injury or illness in Louisiana, contact Lunsford, Baskin, & Priebe, PLLC. We specialize in Louisiana workers' compensation cases, and we'll work tirelessly to help you get the money you deserve for medical expenses and lost wages. Contact our New Orleans office at 504-788-2994 or click here for a free case evaluation.
Video Transcript:
You can get your claim denied for many, many reasons. Most of them are not fair or not just, but the most important thing is the second that you know that your claim is being denied, or if you even think it is being denied is that you contact a good attorney. Tell them what happened and get a game plan moving forward and let that attorney help you. You know if they're going to deny your claim, they're going to fight you the whole way and it's time to get someone who represents you and has your best interests at heart.