Tragic Lumberyard Workplace Accident Claims Life Of 31-Year-Old Father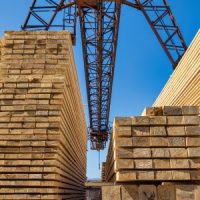 The lumber industry is important throughout Mississippi the United States, and provides many jobs for Mississippians and American workers. In fact, according to a report by Mississippi University Extension, the timber industry, including several important lumber products grown and sourced in Mississippi, contributes to 8.3% of all jobs in the state. The forest products industry in Mississippi generates $7.1 billion annually to the state economy, and, accordingly, $4.4 billion is pumped into wages and salaries for Mississippi workers. However, while the timber industry is important to Mississippi's economy and job market, it is also a dangerous one for workers, and serious –sometimes fatal—workplace accidents can occur. Unfortunately, a recent lumberyard accident in Georgia demonstrates the types of horrific accidents that can happen any day on the job in the timber industry, and serves as a cautionary tale for timber industry employers and workers.
According to local news reports, the terrible and fatal workplace accident occurred in early December, 2022, in Wadley, Georgia. The lumber yard worker, 31-year-old Trenton Lewis, was working at Battle Lumber when he is said to have been caught in a lumber machine at the timber company. Mr. Lewis had been an employee of Battle Lumber for nearly 10 years when the fatal accident occurred. Mr. Lewis was a father of two children and "a wonderful father who worked hard for his family", according to his friends. As of mid-December, Mr. Lewis' body had not been taken to a coroner's lab due to backlogs. However, by accounts, it appears that the incident was, in fact, a workplace accident, pending further investigation and a determination by the Georgia Bureau of Investigation crime lab.
The Risk of Lumberyard Workplace Accidents in Mississippi
As demonstrated by the case of Mr. Lewis in Georgia, there is no doubt that lumberyards in any state pose a risk to lumberyard workers. Common workplace accidents that occur in lumberyards that present a risk of workplace injury include workers falling onsite, workers being struck by objects at the mill (for example, power saw kickbacks), workers being injured by heavy machinery, and workers being struck by falling objects (such as logs and other wood particles).
Help for Mississippi Employees Injured in a Workplace Accident
When a worker is injured in Mississippi—at a lumberyard, sawmill, or otherwise—and is rendered unable to work their job, they may be entitled to Mississippi workers' compensation benefits. Those benefits include compensation for wage loss, medical costs, and other forms of important benefits to get workers back on their feet after a workplace accident. Although most Mississippi workers who are injured on the job and are unable to work may qualify for workers' compensation benefits, Mississippi workers compensation laws are complex, and the process is often difficult for workers who are injured to handle on their own.
If you have been injured on the job in Mississippi and are unable to work, it is, therefore, best to speak with an experienced Mississippi workers' compensation lawyer. The experienced Mississippi workers' compensation lawyers at Lunsford, Baskin & Priebe offer a free and confidential consultation to see if they can help you get workers' compensation benefits due. Contact Lunsford Baskin & Priebe today and speak to a lawyer for free.
Source:
fox8live.com/2022/12/13/31-year-old-father-dies-lumber-yard-accident/