Top Ten Construction Site Injuries In Mississippi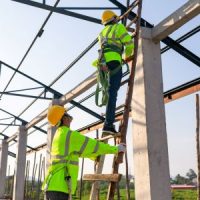 Workplace safety is no laughing matter. Every day across Mississippi and the US, thousands of people are victims of accidents that should be prevented by following federal safety laws.
In Mississippi, the construction industry is tied for number one in workplace fatalities. Here are ten common injuries people experience from construction sites.
The Fatal Four
The top four construction hazards are known as the "fatal four." These make up nearly 60% of construction site fatalities.
Falls
Falls are a leading cause of death on construction sites, accounting for approximately one-third of construction related deaths. Many falls can be prevented with the correct safety gear.
Caught in or between
Another leading cause of construction site deaths is being caught in or between something. On construction sites, workers who are caught in trenches without a safe way out are at risk of a cave in.
Additionally, workers may be caught between equipment. For example, a worker may be pinned underneath sheet metal or a vehicle.
Struck by moving objects
Construction sites have a number of large machines and moving parts. Being struck by a moving vehicle or a moving crane, is a common fatality on construction sites.
Electrocution
Electrocution is the last of the "fatal four" injuries on construction sites. Workers may be electrocuted by coming into contact with overhead or buried power lines.
Common non-fatal construction site injuries
In addition to the fatal four construction site injuries, construction workers in Mississippi face a number of potential injuries on the job.
Overexertion and strain
Construction work takes a serious toll on the body. Workers in this industry are likely to experience pulled muscles, including serious back injuries that leave workers unable to work. Working in the southern summer heat can lead to sunburn, dehydration, and heat stroke.
Falling objects
On construction sites, it's not common for objects to fall from large heights. This puts workers on lower levels and the ground at risk of injury from falling objects and debris.
Slip or trip injuries
Slip or trip injuries can lead to falls, but they can also lead to serious injuries on the ground level. Workers who slip or trip over objects may sprain their wrists or ankles or suffer worse injuries.
Injuries from machines
Heavy machinery can cause serious injury to workers who do not have adequate training or protective material. Sharp tools can easily cut or even amputate fingers or limbs, while tools like nail guns can easily cause puncture wounds.
Respiratory ailments
Workers who do not have proper breathing apparatuses can inhale particles that can cause difficulty breathing or contribute to other respiratory illnesses later on, especially when dealing with asbestos.
Burns
Finally, construction workers are at risk of being burned in a fire or explosion. These can be caused by faulty electric wires, which start fires, or by leaking pipes punctured by a backhoe.
Working with an experienced attorney
If you or a loved one was injured or killed on a construction site, our experienced Jackson personal injury attorneys can help you receive the benefits you deserve. Contact us today at Lunsford Baskin & Priebe, PLLC for a free case evaluation.
Source:
bls.gov/regions/southeast/news-release/fatalworkinjuries_mississippi.htm