Mississippi Motorcycle Accident Leaves Jackson Man Dead, Underscores High Rate Of Motorcycle Fatalities In Mississippi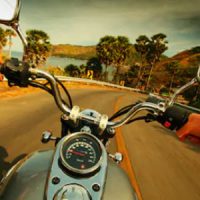 A deadly motorcycle accident that occurred in early December, 2022, highlights the dangers that Mississippi motorcyclists face every day out on the road, and underscores the high fatality rate of motorcycle-involved motor vehicle accidents in the state. According to local news reports, 32-year-old Bradley Chambers of Jackson, Mississippi was killed after having been involved in a motorcycle accident on the evening of December 9. Mr. Chambers was traveling westbound on Highway 80 on his motorcycle that Thursday evening, when he collided with another vehicle, said by authorities to have been a black Infiniti. The vehicle that Mr. Chambers collided with was exiting Carter Circle and turning across traffic when the accident occurred. Although Mr. Chambers was wearing a helmet, he was thrown from the motorcycle and tragically died at the scene of the accident.
Unfortunately, the tragic accident involving Mr. Chambers and his motorcycle is not an isolated and rare incident in Mississippi. According to an August 2022 report, motorcycle deaths have been steadily increasing in Mississippi over the last couple years. In 2019, there were 40 deaths due to motorcycle accidents in Mississippi, and that number climbed to 62 motorcycle-related deaths in 2021. In addition, according to the National Highway Traffic Safety Administration, motorcycle deaths between 2019 and 2020 rose by 55% in Mississippi. Unfortunately, authorities on the subject of motorcycle safety say that the numbers are more likely to rise than to be on the decline.
One reason that fatal motorcycle accidents are becoming more common, according to the report, is simply due to the increasing number of motorcycles on the road. Citing high gas prices on top of the higher expense of larger vehicles – such as trucks and SUVs – motorcycles are becoming a "practical way to get around", per the report. However, many motorcycle riders are not experienced in motorcycle riding, and high speeds, weather conditions, and inexperience all compound to create a fatal cocktail for motorcycle riders out on the road. Advice from local police authorities is resoundingly "proceed with caution." Mississippi Police Chief William Thompson cautions, "Don't act a fool. Drive within the speed limit; drive within your capabilities, especially if you're on a motorcycle. I was young once too. You think you're bulletproof, but I've been in wrecks, and I guarantee you're not."
Help for Survivors of Motorcycle Accidents and Family Members of Those Killed in Motorcycle Accidents in Jackson
Even the most vigilant and experienced motorcycle driver can be the victim of a serious or fatal motorcycle accident. If a motorcycle accident is the fault of another driver's negligence, there may be recourse for motorcycle accident survivors. Under Mississippi personal injury laws, if a motorcycle accident is caused by another person's negligence, injured accident victims may be entitled to money compensation. In addition, family members of deceased motorcycle accident victims may be entitled to compensation under Mississippi wrongful death laws.
If you or a loved one has been involved in a motorcycle accident in Jackson, call the experienced Jackson personal injury lawyers at Lunsford Baskin & Priebe. The lawyers at Lunsford Baskin & Priebe offer a free and confidential consultation to discuss your case and to see if they can help. Contact Lunsford Baskin & Priebe today and speak to a lawyer about your case for free.
Sources:
wlox.com/2022/08/10/motorcycle-accidents-fatalities-are-up-mississippi/
wlbt.com/2022/12/09/motorcyclist-dies-wreck-highway-80/