How Much Is My Burn Injury Claim Worth in Louisiana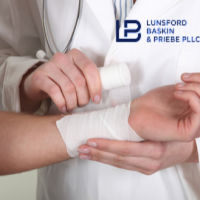 Burn injuries are often some of the most physically scarring and emotionally traumatizing injuries a victim can experience. They leave most victims disfigured and can lead to fatal complications. According to the World Health Organization, an estimated 180,000 deaths occur annually as a result of burn injuries, with the majority of burns being sustained in residential or workplace accidents.
Due to the severe nature of these types of injuries, they often require expensive medical treatments and surgeries in order to recover. In addition to medical expenses, victims may also be unable to work while recovering, which leaves them without a source of income. Some victims may even become permanently disabled and unable to work for the rest of their lives. For this reason, it's crucial for burn victims and their loved ones to work with an experienced attorney to ensure they receive the full compensation needed to cover all expenses related to the injury.
At Lunsford, Baskin, and Priebe, PLLC, we have experience helping injured victims and workers in Louisiana navigate their personal injury and workers' compensation claims. We understand how traumatizing a burn injury can be and will do everything we can to guide you through the legal process to ensure you receive adequate compensation for your pain and suffering.
Pursuing Compensation After a Burn Injury
When pursuing a claim for a burn injury, there is no set amount that you will be awarded. Instead, there are several factors that must be taken into consideration before the courts, or an insurance company can determine how much a victim is owed for their injuries and losses. Typically, when someone is injured, they will file one of two types of claims: a personal injury claim or a workers' compensation claim.
Personal Injury
You would pursue compensation through a personal injury claim if someone's negligent actions were the cause of the accident and the injury. Negligence is shown by proving that (a) someone owed a duty of care, (b) they failed to uphold their duty, and (c) the injury was a direct result of their negligent actions.
This means that in a personal injury case, fault (negligence) must be proven for the victim to be awarded damages.
Damages that a victim can be awarded compensation for include:
Medical expenses
Loss of wages
Loss of future income if the injury leaves the victim disabled and unable to return to work
Pain and suffering
Scarring, disfigurement, and permanent disability
Emotional anguish
Loss of enjoyment of life
Workers' Compensation
You would pursue damages through a workers' compensation claim if the injury was the result of a workplace incident. Workers' compensation is a no-fault benefit, meaning you are entitled to these benefits without needing to prove that anyone was at fault. Unlike a personal injury claim, however, with workers' comp benefits, you are only eligible for compensation to cover medical expenses and loss of wages.
If your injury occurred as a result of a workplace incident and was also a direct cause of someone's negligent actions, you may be able to file both a workers' compensation claim and a personal injury claim or lawsuit to pursue additional compensation to help cover any necessary expenses. Pursuing one claim can be complicated enough on its own, however, let alone pursuing a second claim or a lawsuit. In these cases, it is essential that the victims work with an attorney who can help guide them through the process.
Types of Burn Injuries
Generally, there are four types of burns that a person can suffer from:
Thermal burns: Thermal burns tend to be the most common type of burn injury. They occur when the victim comes into direct contact with flames, steam, hot materials, or hot liquids.
Chemical burns: Chemical burns occur when someone's skin is exposed to toxic or destructive chemical substances.
Flash burns: Flash burns occur when the victim is too close to an explosion.
Inhalation burns or injuries: Inhalation injuries occur when the victim inhales smoke or other harmful vapors that are released into the air during a fire or when handling noxious chemicals.
Burn Injury Treatment
There are a number of treatment options available to burn victims depending on the type of burn injury they sustained and how severe it is. Treatments can include:
Mist/Water-based therapy
Fluids for dehydration
Pain medications
Burn creams and ointments
Antibiotics
Burn dressings
Physical therapy
Surgeries such as skin grafts and plastic surgery
An Experienced Louisiana Workers' Compensation Attorney Can Help
If you have suffered from a burn injury, our attorneys can help. Burn injuries are not something to take lightly and can have lasting and traumatizing effects on a person's life. Not only that but the financial burden that follows a severe burn injury in the form of medical expenses and lost wages can be additionally difficult to deal with. Let our team of experienced personal injury and workers' comp attorneys help you file your claim to ensure you are awarded the full amount of compensation you need and deserve.
For help with a Louisiana workers' compensation claim, contact the workers' compensation lawyers at Lunsford, Baskin & Priebe, PLLC for a free consultation.