Forklift Accidents: Common Causes and Injuries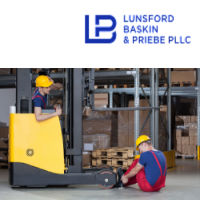 Though commonly used in many industries and workplaces, forklifts are dangerous pieces of machinery. Both the heavy materials and items that they carry and transport can be a hazard, as well as the vehicle itself. In 2019, 79 workplace fatalities and over 8,000 injuries were reported involving forklifts.
Unfortunately, despite their dangerous nature, forklifts do make transporting large, heavy items around the workplace more convenient, especially in large warehouses. For this reason, it is unlikely that employers will discontinue their use. However, both employers and their staff should take precautions and understand the dangers involved before allowing the operation of such machinery.
If you are injured in a forklift accident in the workplace, you are entitled to receive workers' compensation benefits, no matter who was at fault. Workers' compensation is a no-fault benefit available to eligible workers without the need to prove that someone was liable or acted negligently. However, filing for workers' comp benefits is not always easy. Working with an experienced workers' compensation attorney can ensure you receive the full amount of benefits you deserve.
How Do Forklift Accidents Occur?
The exact nature of forklift accidents can vary depending on the individual circumstances. For example, a worker operating the forklift could become injured if they run into something, or a worker not operating the machinery could become injured from an object falling off of the forklift or from the forklift running into them. In general, whenever heavy machinery and the transport of heavy objects are involved, the risk of accident and injury goes up.
Some of the most common reasons forklift accidents occur in the workplace include:
Lack of training: When an employer fails to adequately train employees how to use machinery and equipment, such as forklifts, it can lead to workplace accidents.
Reckless forklift operation: Workers who act negligently of their own accord, such as using high forklift speeds, failing to watch where they are going, or failing to communicate to other workers around them, can cause accidents. Often, this is still the result of a lack of proper training and guidance from supervisors.
Lack of signage: Workplace environments that use heavy and dangerous equipment should have proper signage throughout to warn and alert all workers to the presence of dangerous equipment, such as forklifts. A lack of necessary signage can cause accidents with these vehicles to occur.
Improper loading: If materials and other items are not properly loaded and secured onto the forklift platform, they can fall off while in transport and injure someone.
Poor workplace design: If a workplace is not properly set up or structured to accommodate the safe operation of a forklift, it can lead to an accident. For example, cluttered workspace or warehouses with narrow aisles and pathways can make it difficult to maneuver machinery around.
Malfunctions and lack of maintenance: If a forklift experiences a defect or a malfunction, or if an employer fails to keep up with forklift maintenance, it can cause the operator to lose control and cause an accident.
Common Injuries That Result From Forklift Accidents
Though the injuries sustained in a forklift accident can vary, they tend to be severe and even fatal. For this reason, it is imperative that injured workers file for workers' compensation benefits and work with an attorney to ensure their benefits are fully and promptly paid. Severe forklift-related injuries often require expensive medical treatments and time off of work. The more permanent and severe injuries may even result in the inability to ever return to work and earn an income.
Common forklift injuries include:
Neck and back injuries
Head injuries and traumatic brain injury (TBI)
Spinal cord injuries
Paralysis
Bruises
Lacerations
Fractured bones
Crushed limbs
Amputations
Damage to internal organs
Internal bleeding
Permanent impairments
Scarring and disfigurement
Death
Connect with an Experienced Louisiana Workers' Compensation Attorney
Forklift accidents can be devastating. The injuries that follow can leave you temporarily or even permanently disabled, drastically altering your quality of life. Furthermore, the treatments required can be expensive, and you may miss extended periods from work or never be able to work again. In these situations, working with an attorney is often best to ensure you are awarded the full amount of benefits you need and deserve to recover and move on.
At Lunsford, Baskin, and Priebe, PLLC, our attorneys have years of experience dealing with traumatic workplace injury cases such as those involving forklifts. We are dedicated and determined to help injured workers get the compensation they deserve.
For a free consultation with an experienced personal injury lawyer in Louisiana, contact Lunsford, Baskin, and Priebe, PLLC.