Eye Injuries and Vision Loss Affecting Louisiana Workers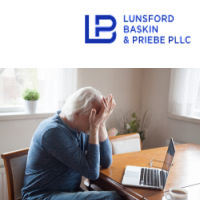 While eye injuries may not be the first thing that comes to mind when you think of a workplace injury, they are actually quite common. According to the CDC, nearly 2000 workers sustain job-related eye injuries daily in the United States. Of those injuries, ⅓ of them require emergency medical care in a hospital, and more than 100 of them result in one or more days away from work.
Though some of these injuries may only be minor and require little recovery time, some eye injuries can be quite severe and even lead to vision loss or total blindness. However, no matter the severity of the eye injury, workers have a right to claim worker's compensation benefits for any job-related injury. Furthermore, workers' comp benefits work on a no-fault system, meaning injured workers can claim benefits without proving fault.
Unfortunately, it is not uncommon for employers or their insurance companies to deny a claim in an attempt to avoid having to pay the injured workers' benefits. They may contend that your injury is not as severe as you say it is, or they may even say that you did not file the paperwork correctly. In these situations, it is crucial for injured workers to seek help from an experienced workers' comp attorney. An attorney can help you fight for your rights and appeal a denied claim if needed.
Causes of Eye Injuries in the Workplace
Though the fields of healthcare, construction, and industrial-related workplaces tend to be where eye injuries are most common, there are many other environments in which someone can sustain an eye injury.
The most common cause of workplace eye injuries include:
Scratching or striking: It is very common for eye injuries to occur when a small object or particle hits or scrapes against the eye. In the work setting, dust, metal slivers, wood chips, and cement chips can be blown around or ejected by tools and then enter the eye(s). A worker's eyes can also be damaged due to blunt force trauma from a striking object or from running into something, like equipment or machinery.
Chemical and thermal burns: Chemicals such as acids, cleaning products, and other solutions can cause chemical burns when they enter the eye. Thermal burns can also occur when workers are exposed to fire and high temperatures, such as welders or firefighters.
Penetration: When sharp objects, such as nails, slivers of metal and wood, and staples penetrate the eye, they can cause severe damage and even result in partial or total blindness.
Types of Eye Injuries
The severity and type of eye injury that occurs in the workplace can vary depending on the situation. For example, scratches from small objects or particles will usually result in minor injuries, whereas blunt force trauma, penetration, and chemical burns can result in a more severe injury.
Some of the more common types of eye injuries that occur in the workplace include:
Corneal Abrasions
Corneal Ulcers (eyesores)
Hyphema (bleeding in the eye)
Chemical, Acid, and Thermal Burns
Puncture wounds
Traumatic Iritis (inflammation in the iris)
Symptoms of an Eye Injury
If you suspect you have an eye injury, you should seek immediate medical attention. The longer an eye injury goes untreated, the more likely you are to develop complications and even vision loss. Even the smallest of dust particles can scratch the eye, which can lead to inflammation or an ulcer if left untreated.
Symptoms of eye injuries can include:
Blurred vision
Pain when you blink or move your eye
Changes in vision and/or pupil size
Reduced eye movement
Bleeding from the eye
Sensitivity to light
Watery eyes
Inability to open or close eyes
Swelling
Feeling something foreign or uncomfortable in the eye
What Benefits Are Available to Workers with Eye Injuries and Vision Loss
If you suffer from an eye injury in a workplace accident, there are two types of benefits that are available to you through workers' compensation: medical benefits and wage replacement (indemnity) benefits.
Medical Benefits: Medical benefits can help you pay for all reasonable and necessary medical expenses related to your injury. This can include doctor and hospital bills, prescription medications, and medical supplies.
Indemnity Benefits: If your eye injury requires you to miss days from work, or if it results in loss of vision or total blindness, you may be eligible for one of the following four types of wage replacement benefits:
Temporary Total Disability Benefits (TTD):, An injured employee who is unable to work due to a workplace injury is eligible to receive ⅔ of their average weekly income until their physician says they can return to work.
Permanent Total Disability Benefits (PTD): Injured workers that are fully disabled, such as losing both eyes and unable to ever return to work can receive ⅔ of their average weekly income indefinitely or as a lump sum.
Supplemental Earnings Benefits (SEB): An injured employee who is unable to work at full capacity and earn at least 90% of what they were making previously is eligible for benefits for up to 10 years. They will receive ⅔ the difference between what they were earning before the accident and what they can earn once they return to work.
Permanent Partial Disability Benefits (PPD): An injured worker who suffers a severe injury, such as partial vision loss, but is still able to work in some capacity will be eligible to receive ⅔ of their weekly income, contingent on the percentage of their determined disability.
An Experienced Louisiana Workers' Compensation Attorney Can Help
If you have suffered from an eye injury or vision loss in a workplace accident, our attorneys can help. Eye injuries can be severe and sometimes result in partial or total vision loss. If this happens, you will likely require expensive medical treatments and miss days from work or be unable to ever return to work. Let our team of experienced workers' comp attorneys help you file your claim to ensure you are awarded the full amount of compensation you need and deserve to cover your medical expenses and loss of wages.
For help with a Louisiana workers' compensation claim, contact the workers' compensation lawyers at Lunsford, Baskin & Priebe, PLLC for a free consultation.