CSX Railroad Worker Killed on the Job in Ohio, Dangers of Railroad Work Underscored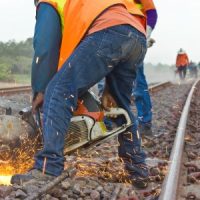 Railroad work can undoubtedly be dangerous work for the many railroad employees that keep America's commuter trains and cargo loads chugging along the patchwork of tracks that run throughout the United States. From exposure to hazardous chemicals leading to cancer and diseases, to bone breaks from hitting obstacles in the yard and on the rails or falling, to being hit by oncoming trains and other vehicles, railroad work is not for the faint of heart, and can end up disabling a person or even killing them.
Unfortunately, such was the case just a few weeks ago when a railroad worker in Ohio was involved in a terrible railroad workplace accident that ended up being fatal. The accident serves as a reminder of just how dangerous railroad work can be, and what railroad workers can do if they are injured on the job.
Ohio Railroad Worker Hit by Train, Killed at Job Site
According to local news reports, on Sunday morning, September 17, a CSX railroad worker was at his job site in the CSX Walbridge Yard in Walbridge, Ohio, when he was fatally struck by a train. The man, identified as CSX employee Frederick M. Anderson, Jr., a 56-year-old resident of Waterville, Ohio, was hit on an active railway track at around 3:40 a.m. in the morning. Initial reports indicate that the train was traveling southward when Anderson was hit and killed. CSX released a statement stating, "CSX confirms that an employee was fatally injured in the course of working early this morning in Walbridge, Ohio…CSX mourns the loss of this employee and our thoughts are with his family and loved ones." CSX went on to say that "The safety of our railroaders is our highest priority. CSX is working with officials to determine exactly what happened." As of September 17, the day of the accident, the National Transportation Safety Board (NTSB) was investigating the terrible accident. The NTSB "tweeted" at the time of the accident, "NTSB is investigating a rail accident in Walbridge, Ohio involving a railroad worker who was fatally injured in a rail yard."
Help for Injured Railroad Workers in Mississippi
When a railroad worker is injured on the job, it may be confusing for them to determine exactly what to do when it comes to applying for workers' compensation benefits. Indeed, the pretzel of laws that govern railroad worker injury claims is complicated, and most railroad workers in Mississippi will have to file a Federal Employers' Liability Act (FELA) claim, which has its own process separate and apart from the Mississippi state workers' compensation process. In order to determine just how to file a claim if you were injured in a railroad accident on the job in Mississippi it is best to speak with an experienced Mississippi railroad employee injury lawyer about your rights and options as soon as possible.
If you were injured in a railroad accident on the job in Mississippi, contact the experienced Mississippi railroad employee injury lawyers at Lunsford Baskin & Priebe. The experienced Mississippi railroad employee injury lawyers at Lunsford Baskin & Priebe offer a free and confidential consultation to learn about your story and to see if they can help fight for you. Contact Lunsford Baskin & Priebe and speak to a lawyer about your case today.
Source:
13abc.com/2023/09/17/railroad-worker-killed-walbridge-rail-accident-ntsb-opens-investigation/