Common Injuries Faced By Office Workers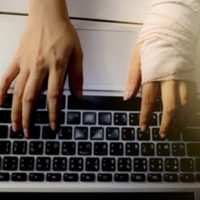 White collar workers involving sitting in air-conditioned offices may not seem like the typical candidates for workers' compensation. However, workers' compensation is available for all employees who get sick or are injured on the job, regardless of the type of work being done.
Here are some common injuries faced by people who work in office environments.
Carpal Tunnel Syndrome
Carpal Tunnel Syndrome (CTS) is one of the top five occupational hazards for workers in Mississippi. CTS happens when nerves in someone's wrist get pinched, leading to numbness and tingling in arms, hands, and fingers.
Office workers, especially people who spend a lot of time typing on the computer, are at risk for CTS. While people with CTS can receive wrist support in the form of braces or ergonomically designed keyboards and desks, the only real cure is rest. This can involve time off from work while you are recovering from your injuries.
Slip and Fall Injuries
Office workers are just as likely as people in other professions to suffer slip and fall injuries while at work. This type of injury could be caused by wet flooring, loose carpet, computer or internet cables, or tripping over boxes of office supplies.
Slip and fall injuries can lead to injuries all over the victim's body, including twisted ankles and knees, and sprained risks. The victim may require medical attention to treat their injury.
Back and Neck Pain
You may have heard the phrase, "sitting is the new smoking." This phrase refers to new health realizations that sitting for extended periods of time can lead to serious health risks.
Office workers who primarily sit during the working day are at risk of causing serious back and neck injury. These injuries can be exacerbated by poor posture caused by sitting in non-ergonomic desk chairs and staring down at computer screens.
workers' compensation provides coverage to employees suffering from back and neck pain as a result of sitting at poorly-designed computer stations, allowing them to get treatment, including physical therapy, for these injuries.
Post Traumatic Stress Disorder (PTSD)
Someone who witnesses traumatic events can experience PTSD. While PTSD is often associated with people fighting in wars, people in other occupations, including office workers, may find themselves in traumatic situations leading to this disease.
Offices that are open to the public, such as government offices, including the post office, banks, and medical facilities may be the target of violent attacks or robberies. Even offices that are generally closed to the public may be targeted for attacks by unstable individuals.
Office workers who survive these traumatic events may have nightmares or other PTSD symptoms following the attacks. workers' compensation covers PTSD treatment for office workers who have faced traumatic events at work.
Contact an experienced workers' compensation attorney today
Regardless of the type of work you do, if you're injured on the job, you have the right to access your workers' compensation benefits. An experienced Louisiana and Mississippi workers' compensation attorney can help you navigate the workers' compensation process and receive your maximum benefits.
Source:
osha.gov/ergonomics