Broken Bone Injuries and Workers Compensation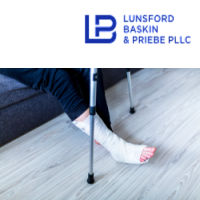 Unfortunately, broken bones are common, and the average person will experience two of them in his or her lifetime. That works out to 6.8 million Americans who suffer a broken bone each year.  In case you are wondering, a fracture is the same as a break, so we'll use the terms interchangeably. Although some people may believe that broken bones are inconsequential and simply involve a cast that can be signed by friends, they actually can be extremely serious, leading to a considerable amount of time off of work and possible future complications.
A fracture (break in the bone) can be classified as simple, where the skin is not broken, or compound (when the bone pokes through the skin). They are sometimes also called closed or open. Within those two types of fractures, there are many common types:
Greenstick: This happens when the break goes only halfway through the bone and is more common with children than with adults
Transverse: The break goes across the bone in a straight line
Spiral: The break twists around the bone
Oblique: The bone is broken in a diagonal line
Compression: This happens when the bone is crushed, for example, in a vehicle accident or by heavy machinery
Comminuted: This is like the compression fracture, but instead of simply being crushed or flattened, the bone is shattered into many different pieces
Segmental: One bone is broken in two different places, leaving a piece of untethered bone in the middle
The top three ways bones are broken at work:
An NIH report found that orthopedic (bone) surgeons were the most frequently consulted specialists out of all emergency room visits prompted by work-related injuries in 2018.
Slips, trips, and falls:
As you can imagine, slips and falls are responsible for many broken bones in the workplace. According to the CDC, 27% of all workplace injuries that resulted in time away from work in 2019 were the result of slips and falls. A fall can be particularly dangerous when it occurs from a significant height, such as from a ladder or scaffolding. Fully 65% of all workers in the construction industry work on scaffolds, but of course, many industries use scaffolding for various purposes.
Contact with equipment or objects:
In 2019, 229,410 injuries that resulted in time away from work occurred because of contact with objects and equipment, according to the U.S. Bureau of Labor Statistics. Falling objects can easily crush a body part.
Overexertion:
Repetitive movements, like working on an assembly line, can place stress on your body that can lead to a fracture. This can be complicated by improper lifting technique, fatigue, using the wrong safety gear, or simple overuse. These types of fractures may develop slowly, over a period of time.
Recovery:
Every fracture varies in severity, but on average, a broken bone will heal in 6-8 weeks. This is provided that there aren't any complications, and of course, there are often complications. For example:
You may have damaged ligaments, joints, and nerves in your injury.
You may need to be in traction and have pulleys and weights align the bones so that they can heal.
You may need surgery that involves the placing of plates, screws, or frames to hold your bones together so that they heal correctly.
You will probably need physical therapy to regain mobility and ease of motion.
All of these scenarios involve discomfort at the very least, but more probably – pain. You will also be required to follow your doctor's orders and work hard at your physical therapy. You could be left unable to work for months, and in severe cases, you may have complications that last a lifetime.
What should you do?
Employers and their workers' compensation insurers have certain legal responsibilities when it comes to employees who are injured on the job. Workers' comp should pay for all costs that are reasonable and necessary to treat your fracture and achieve maximum cure.
At Lunsford, Baskin, and Priebe, PLLC, we are experienced in the ways that the process can go wrong. If the workers' compensation insurance carrier denies the optimal treatment for your fracture or refuses a referral for you to see an orthopedic surgeon or specialist, we can help. Our professional, dedicated team has years of experience practicing exclusively in the area of workers' compensation law. We'll take on the task of making sure you get your benefits promptly and that you are fully paid, including appealing claim denials if necessary. We will also make sure that any work restrictions are followed when you return to your job.
For help with a Mississippi workers' compensation claim, call the Jackson workers' compensation lawyers at Lunsford, Baskin, & Priebe, PLLC for a free consultation at 601-488-3975.