Bank Vault Falls on Mississippi Bank Worker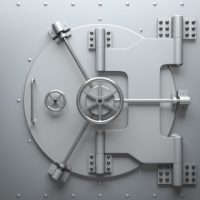 On Monday, April 10, a horrific workplace accident occurred at Cadence Bank in Starkville, Mississippi. Around noon, emergency dispatchers received a call concerning a male bank worker who had been trapped under a bank vault after the vault fell on him. Around noon that day, the male bank worker had his legs trapped under the vault and was injured. When emergency personnel arrived on the scene, including fire department personnel, they found that the male employee had been removed from under the vault by several other employees of the bank. "Some of the bank workers had already gotten him out from under [the vault]. They used a pry bar and the pallet jack to lift it up enough to get him out. They also applied a tourniquet, which definitely helped before we arrived," Starkville Fire Department battalion chief Grant McCarter said of the male bank worker's condition when he arrived on the scene.
According to local reports, the male bank worker is an employee of a contractor of the Cadence Bank and was delivering the vault that ultimately fell on him from a pallet jack. During the delivery, the vault fell off of the pallet jack onto both of the male bank worker's legs, causing severe injuries to both legs. Emergency medical personnel were ultimately able to get the injured bank worker into stable condition and airlifted him to receive care via a medical evacuation helicopter. "Cadence has received initial reports of a person who was injured while performing work for one of our locations," Cadence Bank president Loren Bell said of the accident. "We hold the individual and their loved ones in our thoughts, and we hope to hear positive news on their condition soon. We also send our deep appreciation to the emergency and medical personnel for all their efforts."
Help for Injured Workers in Mississippi – Mississippi Workers' Compensation Benefits
Fortunately, most injured workers in Mississippi have options if they suffer a disabling workplace injury. Under Mississippi workers' compensation laws, workers who are injured during the course of their employment, regardless of fault, are entitled to important benefits, such as medical expense reimbursement, vocational rehabilitation services, disability benefits, wage replacement compensation, and other important benefits to help them while they are injured, and to get them back on their feet. In order to determine whether you may be eligible to receive workers' compensation benefits for your workplace injury in Mississippi, it is advisable to speak with an experienced Mississippi workers' compensation lawyer about your rights and options in your specific case.
The experienced Mississippi workers' compensation lawyers at the law offices of Lunsford Baskin & Priebe help injured Mississippi workers get workers' compensation benefits due. The lawyers at Lunsford Baskin & Priebe offer a free and confidential consultation to learn about your particular case and to see if they can help you. If you were injured in a workplace accident in Mississippi and you are interested in finding out about your entitlement to Mississippi workers' compensation benefits, call Lunsford Baskin & Priebe today and learn about your rights for free.
Source:
starkvilledailynews.com/news/crews-rescue-injured-man-after-bank-vault-falls-on-him/article_69ffb33a-d7ff-11ed-bcdf-73cd34ff29c8.html