Restaurant Industry Guidance Reveals Top 4 Most Common Restaurant Workplace Injuries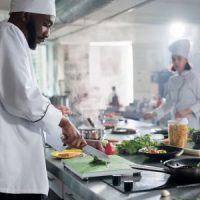 When most people sit down for a special dinner or lunch out at a restaurant, they don't think about all that goes on behind the scenes. To get a steak dinner from barebones ingredients to a customer's table takes a network of people working together in harmony to prepare, cook, serve, and clear the dish in an elegant and timely manner. The fast-paced atmosphere caused by customers constantly flowing in and order tickets piling up at mealtime rushes, coupled with the close proximity to heat, use of knives, and slippery surfaces, makes the restaurant a potentially dangerous workplace. Acknowledging that the restaurant industry can present a number of hazards to restaurant workers leading to potentially serious workplace injuries, online magazine Full Service Restaurant (FSR) reports on the top 4 most common restaurant industry injuries and how to prevent them.
Cuts, Lacerations, and Punctures
According to the FSR article, a surprising 22% of injuries reported by back-of-the-house workers are due to cuts, lacerations, and punctures. Knife work, such as mincing, dicing, and peeling, coupled with the use of other sharp kitchen objects such as hand blenders, grinders, and slicers, makes the kitchen a prime area for cutting and puncturing fingers and limbs. In addition, broken glass and dishes in kitchen sinks and when cleaning up an accident can contribute to cut, laceration, and puncture wounds. FSR notes that wearing protective gloves and proper knife and equipment training is critical to preventing cut, laceration, and punctures in the restaurant workplace.
Slips and Falls
According to FSR, slips and falls contribute to 20% of back-of-the-house workplace accidents in restaurants. Kitchen floors can be covered in grease, water, oil, and other food and beverage debris that can cause slip and fall accidents. FSR advises that workers should wear non-slip footwear in the kitchen and floors should be regularly cleaned in order to keep them free from debris and slippery liquids. Non-slip flooring and the use of rubber floor mats can also help prevent slip and fall accidents in the kitchen.
Sprains and Strains
15% of back-of-the-house accidents are sprain and strain accidents commonly caused by bending, lifting, slipping, tripping or reaching. FSR's takes a common-sense approach on how to prevent sprains and strains in the kitchen. Heavier objects should be stored at chest height for easier moving and heavier loads can be shared between two people. FSR also notes that automated machinery can be used for some things, such as oil removal and storage.
Burns and Scalds
Lastly, burns and scalds contribute to 13% of back-of-the-house restaurant workplace injuries. Simple protocols can be implemented to reduce the number of burn and scald accidents in the kitchen workplace. For example, workers can be trained to turn off burners when they are not in use, and pot and pan handles can be turned inwards to reduce the risk of spilling hot liquids and foods. In addition, cleaning hoods and filters using a ladder and advising workers to stay away from food that is pressure-cooking can also reduce burn and scald accidents.
Legal Help with Workplace Accidents
Workplace hazards can crop up in any workplace. If you have been injured on the job, find out about your entitlement to workers' compensation benefits, including wage replacement and medical treatment. The experienced Mississippi workers' compensation lawyers at Lunsford Baskin & Priebe, PLLC, offer a confidential consultation to discuss your potential case and to see if they can help you. Contact the law offices of Lunsford Baskin & Priebe, PLLC, to get started today.
Source:
fsrmagazine.com/slideshows/4-common-restaurant-injuries-and-how-avoid-them