First Responder On The Mend After Horrific Workplace Accident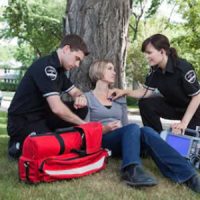 First responders – the brave professionals who respond to emergency situations every day throughout Mississippi and the United States – are no doubt critical to protecting lives. When an accident happens, first responders are the boots-on-the-ground people who are first to arrive on the scene, protect us from further harm, and take us to the hospital or emergency room for further treatment. Indeed, without first responders, we would be left to fend for ourselves in the case of an accident or emergency. However, the job of a first responder in and of itself is full of hazards to first responder workers, and emergency medical professionals can suffer severe injuries on the job, both as a result of traumatic accidents, and as a result of performing repetitive tasks with the same muscle groups over and over again on a prolonged basis, such as using the shoulders and knees to lift and move injured individuals. The recent recovery of a first responder in Arizona helps shed light on just how dangerous the job of a first responder is, and what types of accidents can happen when a first responder is on duty.
In early April, 2022, Tyler Packer, a recent addition to the Salt River Fire Department in Phoenix Arizona, suffered a terrible and traumatic accident while on duty as a first responder. On the day of the accident, Mr. Packer and a fellow firefighter, Brendan Bessee were on their way to help a person in need when the ambulance that they were traveling in collided with a semi-truck. The cab of the ambulance was separated from the back of the ambulance during the collision, and Mr. Beesee died as a result of his injuries. Mr. Bessee had been behind the wheel driving at the time of the accident. Mr. Packer was rushed to the hospital and was in a coma for 10 days. After spending over one month in the hospital, Mr. Packer was ultimately returned to light duty work and is back working full-time now for the Salt River Fire Department. Mr. Packer notes that as a result of the accident, "I had to actually 'relearn' how to drive." Mr. Packer reports that he is happy to be back and work, but thoughts of Brendan Bessee are never far from mind – to honor Mr. Bessee, the Salt River Fire Department placed stickers in his memory on fire department equipment, and Mr. Packer has a sticker commemorating Mr. Bessee on his helmet.
Help for Injured First Responders and Workers in Mississippi
If you have been injured on the job in Mississippi, as a first responder or in any other role, it is important to learn about your rights and entitlement to Mississippi workers' compensation benefits. Contact the experienced Mississippi workers' compensation lawyers at Lunsford Baskin & Priebe to learn about whether you might qualify. Lunsford Baskin & Priebe offers a free and confidential consultation to learn about your workplace accident and to see if they can help. Contact Lunsford Baskin & Priebe today and learn about your rights for free.
Source:
12news.com/article/news/local/first-responder-back-to-work-after-horrific-crash/75-9af6c9b4-749c-4e13-b3a2-5a557a6554c7