Does Louisiana Workers' Compensation Cover Knee, Shoulder, and Other Joint Injuries?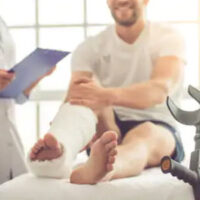 Almost everyone who works for a living must bend, stoop, kneel, reach, and move in other unnatural ways. Over time, these movements could cause a Repetitive Strain Injury. Contrary to popular myth, RSIs are not limited to warehouse and other blue-collar workers. All workers are potential victims. In fact, the first reported RSI cases were among early 18th-century Italian clerks and musicians.
RSIs are occupational diseases. They do not occur immediately. Instead, these nerve and/or  musculoskeletal injuries occur slowly over time. As a result, these claims are procedurally different from other workers' compensation claims, as outlined below.
RSI might be different, but the Louisiana workers' compensation system clearly covers these occupational diseases. That coverage means that victims are entitled to compensation for their lowest wages and medical expenses. A New Orleans workers' compensation attorney helps ensure that victims receive fair compensation, as opposed to the coverage the insurance company allows.
RSI Symptoms
Dull aches, pulsating pains, and debilitating weaknesses are usually the symptoms of RSI. However, most job injury victims do not go to the doctor when they first experience these symptoms. As a result, their condition deteriorates, and the claims deadline usually passes before they take action.
If victims do not see doctors and their conditions worsen, full compensation is usually still available. Victims have no legal obligation to mitigate (voluntarily reduce) their injuries until they are fully aware of their conditions.
Similarly, if the victim has an occupational disease and the claims deadline passes, the victim is normally still eligible for compensation. According to the discovery rule, victims have no obligation to initiate claims until they know the full extent of their illnesses and they connect that illness to a workplace condition.
RSI is an umbrella term for about a dozen conditions. Most of them involve repetitive muscle strain. The individual exertions are not dangerous. Instead, the damage builds up over time. Since the 1970s, carpal tunnel syndrome and other office-related RSIs have been almost as common as RSIs among manual laborers.
RSI Risk Factors
Occupational factors are the leading cause of RSIs. The amount of time required to develop a repetitive stress injury varies according to the type of work and the individual.
There is an emotional component as well. The mind-body connection sometimes comes into play. Statistically, people with poor attitudes about their jobs due to long hours, lack of control, and so on develop RSIs at an accelerated rate. On a related note, RSI is associated with the stress hormone catecholamines. Long-term exposure to this chemical could cause a brain injury.
Other factors include gender, age, alcohol/drug use, diabetes, and obesity. Pre-existing conditions and non-occupational risk factors like these typically do not affect the amount of compensation in Louisiana.
RSI Treatment
Rest and physical therapy are generally the best treatments for repetitive stress injuries. Rest allows the muscles and/or nerves to regenerate. Physical therapy strengthens these nerves and/or muscles. In other words, there is no quick fix. RSI victims might be off work, or be forced to accept light-duty assignments, for several weeks or months.
Once the victim returns to work, ergonomics are important. Office workers must have the proper furniture and blue-collar workers must have protective devices, like braces. Otherwise, the victim will develop another RSI, and the whole process begins again.
 Contact an Aggressive Attorney
Occupational disease victims might be entitled to substantial compensation. For a free consultation with an experienced Jackson & New Orleans shoulder & knee injury attorney, contact Lunsford, Baskin & Priebe, PLLC. We do not charge upfront legal fees in these cases.
Resource:
my.clevelandclinic.org/health/diseases/17424-repetitive-stress-injury